After the development website is turned over to your department and your Account Administrator has established your credentials, it is time to create a new section and associated pages.
Login to OU Campus
Open the page you want to edit in a Web browser
Scroll to the bottom of the page
Click on the "Last Updated (modified date)"
At the SDSU Shibboleth Login screen, enter your SDSUid username and password
Once you are logged in, you will be taken to your OU Campus dashboard and will need to navigate the folder structure to find the page you want to update
From the Global Navigation Bar, select: Content then Pages (from drop-down menu)

Page view will appear: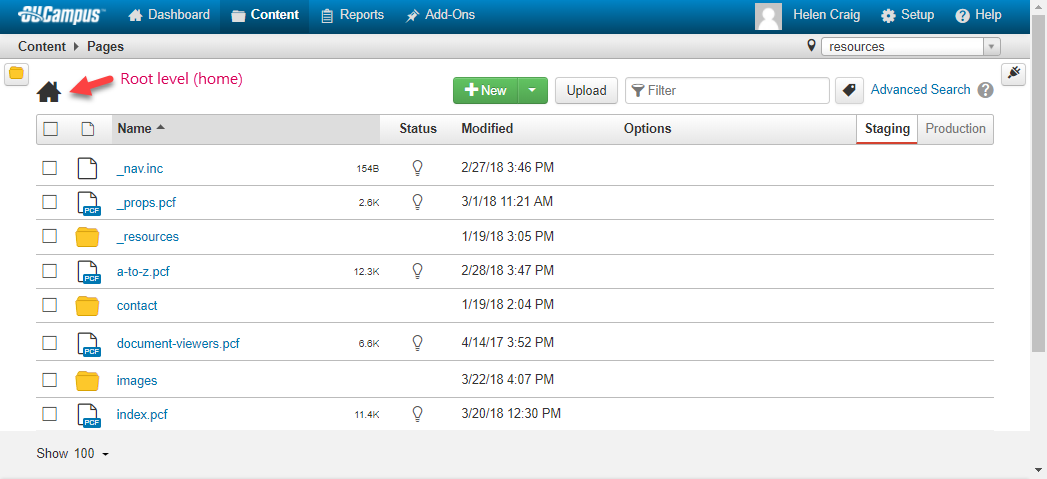 Create New Section
Select option:

(template options will appear)
Choose: New Section - a New Section window will open, complete the fields as specified under each field:
Folder Name - * all lowercase, use hyphen (-) between words, keep name brief (e.g. staff-events)
Sectional Title (it can be removed afterwords if decided to do so)
Template * (select: New Section)
Page Title * (this appears in tab of rendered page)
Description (optional)
Tags (optional)
Add Navigation Item - * (Yes or No)
Overwrite Existing
Access Group ('Inherit from Parent' is the default)
When fields are finished, select: Create
It will automatically open up the index.pcf of the new section: start populating your homepage with data.
Save and exit the changes when done.
Select: Preview to ensure it's ready to be tested through Publish option.
Select: Publish option then 'Run All' test to check for spelling and accessibility errors. If errors are indicated, close window, don't publish yet.
Go back into index.pcf file and correct errors, test again until it test successfully.
Prior to publishing the index.pcf, note the 2 new files in page view that were created with the new section:

the nav.inc (navigation.include) if you specified navigation 'Yes' for this section, any new files you create in this section will automatically populate in the navigation (except props.pcf). You must publish nav.inc or a Server Error '/' in Application will appear when you publish the index.pcf without it.
props.pcf (property) this file manages the contact information that appears in left column if they were checked via the Properties option of the page.
Scroll down to Contact Info then select it and Save.
Contact information will appear in left column under navigation area. Do not publish the props.pcf. Instead, the PCF files within this directory must be republished for changes to appear in that section.